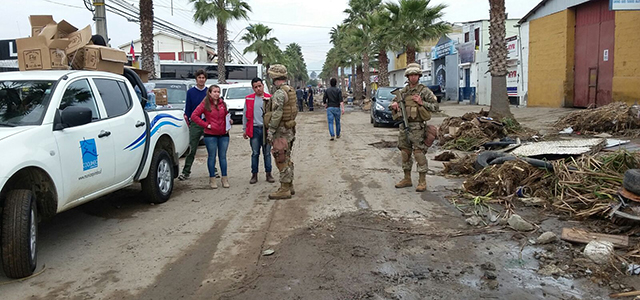 Chile's 8.3-magnitude earthquake and tsunami left considerable damage, and as is customary with every major natural disaster, the armed forces have been called out to help. About 150 Marines were initially deployed to the area of Coquimbo, one of the hardest hit by the Sept. 16 quake, to help maintain security. Much of the area lost electric power, and the tsunami left many buildings and roads damaged. The Navy also has
sent its multi-role ship
, the Sargento Aldea, to provide medical aid, cleanup, search and rescue and other assistance. The ship has become synonymous with disaster relief because it has the largest carrying capacity of any vessel in the Navy, plus it has a hospital unit. Tapping a special constitutional power, President Michelle Bachelet has put the senior officer in the region, the commander of the Army's 2nd Motorized Division,
in charge of security
. That gives the general power to mobilize more troops if necessary and coordinate efforts with all branches of the military. There's been no curfew. The mobilization has been much smaller than in the 2010 and 2014 earthquakes, which were more damaging. In fact, more Chileans have died in traffic accidents during the holiday weekend than due to the earthquake. This time, there's been no need for a massive airlift like in 2010 or much clearing to do on streets or highways, where the Army's engineering units can be especially helpful.