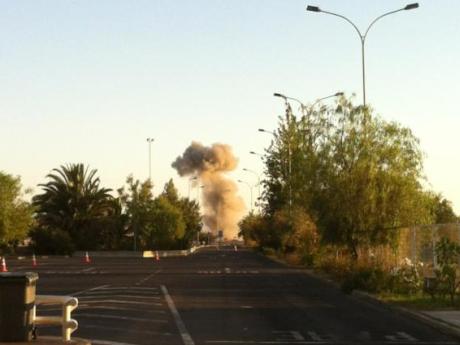 Bomb disposal unit detonates landmine near Peru border.
The northernmost part of Chile is the driest place on Earth, so when it rains there's usually some trouble. But no one expected this: Rainfall washed up a number of landmines onto the main highway and into the ocean. Some 200 mines have surfaced so far. The border crossing with Peru was closed Monday, Feb. 20 and officials hoped to have it reopened late Wednesday, Feb. 22. Chile's
Navy is tracking water flows to catch landmines reaching Chilean or Peruvian beaches
. Bomb disposal units have detonated a handful of mines. About
20,000 landmines were planted in the area in the late 1970s
-- the legacy of a dispute that threatened to unleash war between Chile and Peru. Chile has been slowly removing the mines for years, and as a signer of the Ottawa Treaty is committed to removing all such explosives by 2020. Over the years, about
150 civilians have died
after stepping on landmines on Chilean soil.